5G – How Does It Affect Me…and ND Wireless?
July 20, 2020
Watch WSBT's Katlin Connin's interview with Nick Laneman Co-Director of the Notre Dame Wireless Institute on 5G and how it will impact our future.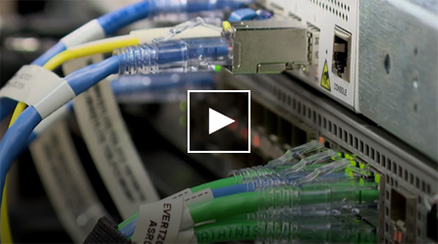 With the explosive growth in applications and innovations of wireless technologies, especially Fifth Generation (5G) mobile cellular technologies, it can be difficult to keep up and navigate through all the jargon. Luckily, the Notre Dame Wireless Institute is full of expert faculty and students who get it.
Professor J. Nicholas Laneman, Founding Director and currently Co-Director, emphasizes, "The ND Wireless Institute actively engages with industry players and government agencies to stay current on the state-of-the-art and to identify bold new research directions." The Institute has conducted a number of collaborative research projects with cellular operators, equipment vendors, chipset manufacturers, intellectual property companies, defense contractors, and government agencies over the past decade.
5G is one topic that has received a lot of media attention and that directly relates to ND Wireless Institute's research and educational efforts. 5G is the latest generation of mobile, cellular wireless network technology. The first version of 5G is now standardized and being deployed throughout the world, along with much enthusiasm and hype, but there is still confusion about what all of this means to a typical user, resulting in many misconceptions.
Laneman notes that, from the cellular operator perspective, South Bend, IN and many other cities already have 5G coverage. However, "at present, not many devices support 5G, and those that do have limited battery life while operating in 5G mode," he says. Furthermore, coverage does not imply the highest speeds everywhere or a consistent user experience. "There have been reports in some areas that 4G networks, which have been deployed and operating for some time now, perform better than the initial tests and deployments of 5G networks," Laneman says. "The bottom line is that we will 'have 5G' when the technologies and application demands come together to shift broader investment from 4G to 5G."
Looking ahead, Laneman and others at the ND Wireless Institute have already begun working on prototypes for the next version of 5G and even 6G. "We are always trying to create new wireless technologies, and we develop research platforms that allow us not only to conceive of but also to demonstrate these new inventions," says Laneman. There are massive efforts to develop and standardize the next generations of wireless technologies such as cellular and wireless LANs, in which companies cooperate to produce global standards but compete to own key technologies in those standards. "Increasingly, these companies look to the ND Wireless Institute to expand the scope of their near-term development efforts as well as recruit our students, both of which help them be more competitive. In turn, these interactions better train our students and provide them with top-tier career opportunities after they graduate," he adds.